Talk to any stranger about the cumbersome medical bills that we encounter, and you will surely find something in common with that person – regardless of political party, religion, gender, ethnicity or place of residence. The fact is, whether or not you have health insurance, few of us are happy with the hefty medical bills we are prompted to pay.
Recently, a book was published that addresses how patients should carefully scrutinize their medical bills before paying them. The book, "Never Pay The First Bill and Other Ways to Fight the Health Care System and Win," was written by ProPublica investigative journalist, Marshall Allen. Many of Allen's resources and strategies to demand fair prices make intuitive sense…but it requires patience and persistence from each of us.
Price gouging continues to be a huge reason why the U.S. spends more money on healthcare than any other wealthy country. Seeking care requires one to navigate a complex system that too often provides unnecessary treatment, elicits erroneous medical bills that require higher cost-sharing with patients, and necessitates complicated communications with insurance companies, hospitals and other care professionals. 
Medical Debt
About one in six Americans have medical debt in collections. Sadly, this number appears to be increasing. A good reason – other than being uninsured – is that a rising number of Americans are enrolled in high-deductible health plans (HDHPs). HDHPs are commonly used with health savings accounts (HSAs), which are tax-free spending accounts that help people pay for their out-of-pocket costs. However, the HSAs are typically funded by the employee, reducing their disposable income for other essential items, such as food and housing.
According to a 2018 Survey of Income and Program Participation (SIPP), 19 percent of U.S. households carried medical debt – costs that people are unable to pay up front or when they receive care. The median amount owed by households was $2,000.
A CNBC report from 2019 indicated that two-thirds of people (66.5 percent) who file for bankruptcy cite medical issues as the reason. In fact, an estimated 530,000 families turn to bankruptcy each year because of medical issues and bills.
Below is a medical debt breakdown by SIPP based on race, education level, family composition, region and poverty status.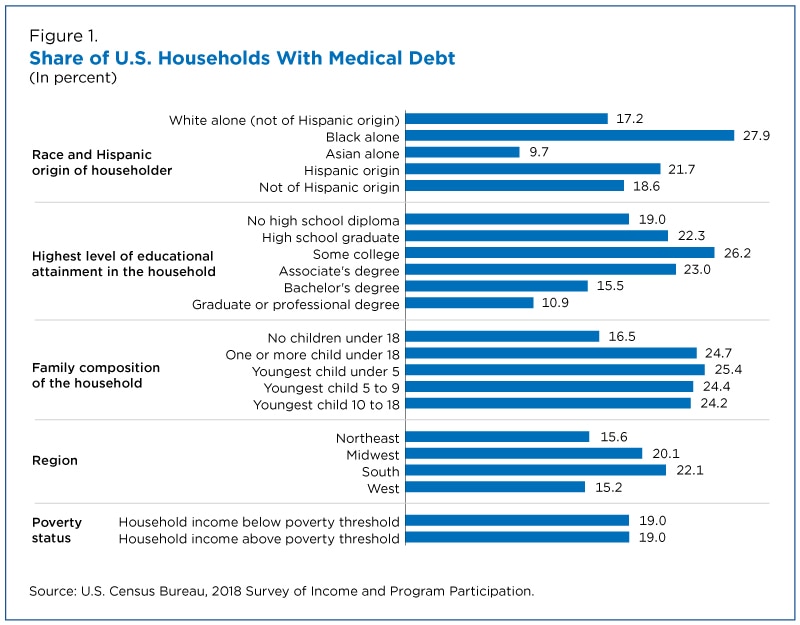 How Common are Errors in Medical Bills?
Most people who take time to review their medical bills say they contain errors. Whether we are charged for services or procedures that were not performed, or upcoding, which is assigning an inaccurate billing code to a medical procedure or treatment which will increase the cost to the payer(s). Plain and simple, upcoding is nothing short of fraud. Much too often, patients unknowingly pay for these 'mistakes.'
According to a July 6 Wall Street Journal article, after "studying thousands of prices at hundreds of hospitals," many hospitals charge top prices to uninsured patients who must pay cash out of pocket. The difference of payment required between those insured and those uninsured are substantial. Even those who have insurance may find their policy will not cover a particular procedure, leaving the individual to assume the entire billed amount on their own. This finding is not terribly earth shattering, as it has been street knowledge for years that insurers are able to drastically reduce billed charges down to a more 'reasonable' amount. But what insurance companies have 'negotiated' to pay hospitals is still multiples higher than what Medicare pays these very same hospitals for the same procedures.
Based on research, medical billing errors are so frequent that four out of five bills contain at least minor errors. Insurance companies may find some of these errors, but ultimately, most medical claims are auto-adjudicated, which means most errors fall through the cracks at the insurance company, leaving patients with unfair bills to pay. Marshall Allen asks both a fair and fundamental question: Who are the REAL customers of the insurance company – the hospitals and physicians, or those who actually pay for the insurance coverage?
What You Can Do to Combat Medical Bills
Allen does a wonderful job of describing what you can do when confronted with medical bills that appear to be unreasonable (most are, by the way). Primarily, Allen recommends that people always request an itemized medical bill from the hospital and other medical providers. This bill should include a list of all the charges that add up to the total, in addition to including the billing codes – also known as Current Procedural Terminology (CPT) – that the provider used when they filed the insurance claim on your behalf. With these itemized billing codes, you can perform your own research on what is considered to be 'fair' prices. Yes, this process can be intimidating, even for those of us who are tangentially involved in the healthcare industry.
Itemized bills, by the way, are not terribly common in the U.S., primarily because patients assume and expect their insurance company to process the bills to ensure accuracy and appropriateness. This is a big assumption that may not happen. If more Americans would request an itemized bill from hospitals and other providers, it would force billing departments to make this a standard procedure. If not, people can insist on legislation in their states or nationally to ensure that every hospital bill is itemized. By doing this, more transparency will force the billing practice to become more accountable to payers and patients.
Through his research, Allen has found that hospital bills can be negotiated down to a more reasonable amount, whether through collection agencies who are hired by hospitals, or by 'debt buyers' who purchase the hospital debt at pennies on the dollar.  Debt buyers will subsequently discount the list price greatly in order to profit from what they paid the hospital. According to one source quoted by Allen, people can get about an 85 percent discount off the list price of the debt. This is quite substantial.
Closing Remarks
Because Americans pay far more per capita for our healthcare, this book is a must read. Without giving away Allen's 'secret sauce' within this blog, this book should be purchased and read cover to cover. Marshall Allen was also a guest on Reconstructing Healthcare, where he describes his book (audio below). Information gleaned from resources like these will make it easier for patients, employees and employers to more confidently push back on our perverse health system, and actually win!  
To stay abreast of employee benefits, we invite you to subscribe to our blog.